The truth is, your face has been changing your whole life. After enough facial collapse occurs, you finally begin to notice it. The changes become even more apparent when you look at your mouth and realize that you can not see your teeth when you talk. You are having sleeping problems or TMJ type of issues.
Anti-Aging Dentistry
The secret to maintaining the youngest face in your age group is to have the ideal jaw position, similar to what you had as a much younger person. Interesting enough, the perfect jaw position has significant TMJ functionality benefits that improve the quality of your life. Over the years, your teeth and bite wear down, and your face slowly sags with the wear. We begin to notice that we are aging prematurely because the teeth are getting shorter. Your bite alters you natural jaw position.
Beyond Crowns and Veneers
It is at this stage where too many people rush off to their local cosmetic dentist to have their bite restored with crowns and veneers. The chances are that this will result in their healthy tooth enamel being drilled down which only aggravates problems. Fortunately, there is a high-tech, non-invasive (no drilling) way which will not only restore worn teeth, but also harmonize the jaw, bite, and TMJ, with outstanding aesthetic benefits.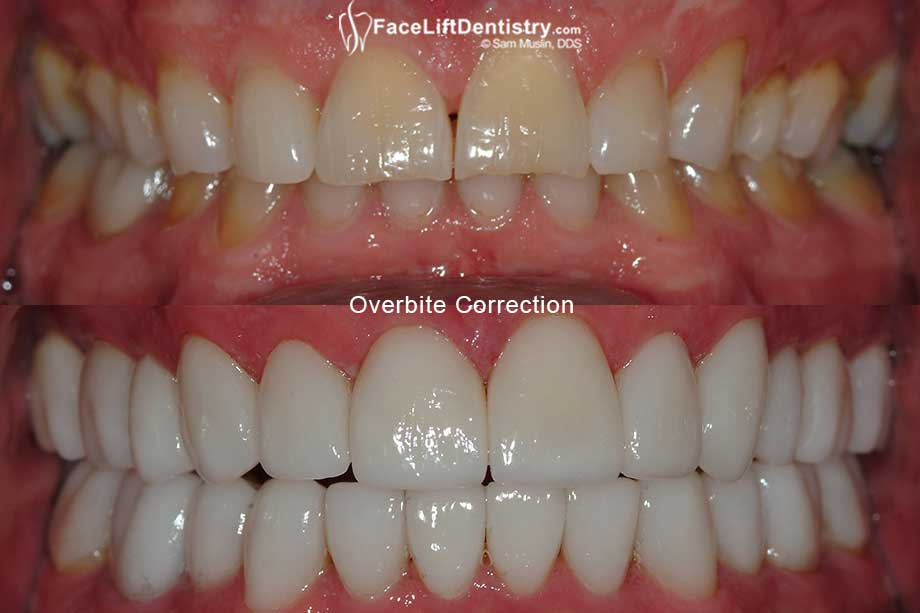 The Ideal Jaw Position
The location of your lower jaw and the design of your VENLAY® Restorations goes way beyond bite correction. It is physically beneficial to your health and emotional wellbeing. This technology was designed as a non-invasive and aesthetic beneficial solution for middle-aged and older patients. The most surprising thing is that millennials are getting it done because they want to live an optimized life. With VENLAY® Restorations, patients look better, they are more self-confident, and they have an incredible smile with much less TMJ related headaches, jaw pain, neck pain, and sleeping problems.
Unfortunately, many of our mature patients are just not being proactive until one of the grandchildren says, "Grandma, you look old, are you going to die soon?" This is what finally got grandma to step up her game and get Face Lift Dentistry® without the pain and damage done by the other invasive ways. Dentists that have no idea what the Face Lift Dentistry® method is, or how it is done, are now advertising "get a facelift at the dental office." Don't be fooled. Their work and their photos are nothing more than the same old cosmetic dentistry that drills down your healthy teeth.
Face Lift Dentistry® is the only non-invasive method, which includes JawTrac®. JawTrac® was designed to improve your TMJ function and at the same time give you enormous cosmetic benefits not available with other methods. It is the ultimate anti-aging method with substantial health benefits that has shocked the dental industry and the patients. Patients often say, "this is too good to be true," and we say "thank you, this is the ultimate compliment."
Patients are flying in from all over the world as there is nothing comparable to Face Lift Dentistry®. They don't want to make another mistake with a local dentist. This method helps patients that have had jaw surgery and patients that want to avoid jaw surgery. This method has been successful for ages 14 to 93 years of age and still counting. Face Lift Dentistry® helps patients that have already had porcelain veneers and have already had dental crowns on their teeth.
What are the steps to this treatment? First, we locate and test your new jaw position with JawTrac®. You will know before work starts to your teeth that it can work for you. You will also see and experience the new shape of your face, which can immediately help you look younger. With jaw surgery, you cannot experience anything until the surgery is over, and then it's too late. Welcome to the future. Welcome to the Face Lift Dentistry® Method with JawTrac®, and the non-invasive VENLAY® Restorations.
Call us so we can get a better understanding of your particular bite problems and dental history as the cost of this method directly relates to the condition of your teeth.
It is only available in Santa Monica California, and because the benefits of this method are so profound, patients fly in from all over the world because it can save them a great deal of time and money.
Call us on +1 (310) 829-6796 or use the Contact page to ask your questions or schedule a consultation.
Non-Surgical Mouth Reconstruction and Facelift Dentistry, Santa Monica, CA