What is Bruxism?
Bruxism is a medical term for habitually grinding one's teeth.
Gritting one's teeth once in a while isn't typically a problem, but regular chronic grinding of one's back teeth can have repercussions that compromise oral health and overall long-term health and well-being.
In today's high tech tension filled world, there is more stress and pressure placed on our teeth due to increased mental stress.   The TMJ (jaw joint) also experiences damage from clenching and grinding. When we couple the fact that we are living longer than ever, we are experiencing premature aging from worn down bites.  The TMJ is the only joint in the body that has a psychological component and a physical component that causes problems.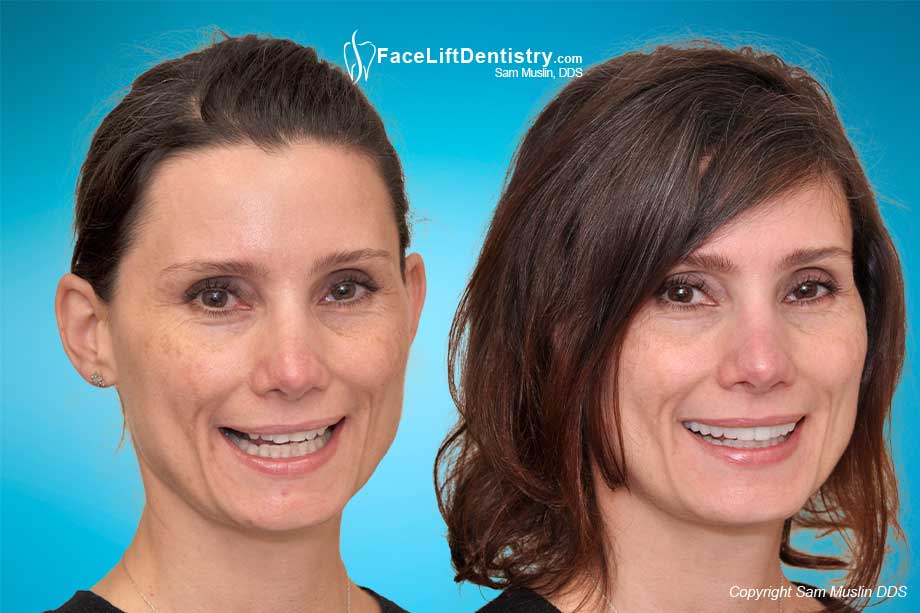 The stresses of parenting, caring for one's elderly parents, computers, cell phones and work-related anxieties can manifest themselves during the day or at night during sleep. The constant pressure on teeth can cause the enamel to wear and puts stress on the TMJ which contributes to headaches, jaw pain and neck tension, says Face Lift Dentistry® creator Dr. Sam Muslin, DDS, Master of the Academy of General Dentistry, a California restoration dentist who recently was named "LA's Best Cosmetic Dentist for 2015." This can lead to ongoing health problems such as constantly sore jaws, excessively worn teeth and cosmetic problems as premature aging and shrinking chins.
Today, the lost tooth enamel can be replaced without tooth grinding.  Non-surgical and no prep bite correction has reversed the effects of aging, given improved jawlines and the smile that exceed expectations.  "VENLAY® Dental Restorations are a breakthrough method ideal for addressing the damage caused by bruxism – or self-inflicted teeth grinding," says Dr. Muslin of Santa Monica. "More importantly I work to identify the root cause of the problem with high tech imaging  and use my breakthrough Face Lift Dentistry methodology to correct problems at the source."
Conditions that Cause Bruxism
Sleep disorders such as apnea.
Abnormal bites
Crooked teeth
Missing teeth
Prescribed medicines
Facial or oral trauma
Stress and anxiety
Alcohol consumption
Drug abuse
Smoking
Caffeinated beverages
Obsessive-compulsive disorder
Chronic teeth grinding can lead to jaw pain and short aging faces.. Missing teeth hollow out the cheeks and the mouth can appear sunken. The chin looks smaller as the bite deepens.   Wrinkles appear and the facial profile collapses..
Then there's the pain. Teeth get sensitive from the trauma. Inflammation of the periodontal ligament of teeth may occur. The temporomandibular joint (TMJ) undergoes mechanical stress and shooting pains in the jaw, neck, ears, face and upper back can follow. Cheek biting and a sore or burning tongue may be other symptoms of bruxism.
Approximately 24 percent of adults in the United States have some level of bruxism, according to the May 1981 issue of the Journal of Prosthetic Dentistry. Eight percent of teen and adult Canadians suffer from chronic bruxism, according to the Canadian Sleep Society.
Occlusal splints/mouth guards, stress counseling, Botox, biofeedback therapy, yoga, meditation classes, aerobic exercise, hot compresses and muscle relaxants may be prescribed by your dentist or family doctor, but if bite mechanism is abnormal or teeth are worn or missing, the pain will never go away permanently if the source of the pain is not dealt with, explains Dr. Muslin.
"The Dental Face Lift®and non-invasive bite optimization I do in my office are what sets Face Lift Dentistry® apart. I look at the whole picture," says Dr. Muslin. "Simply applying veneers like most cosmetic dentists, only improves the patient's smile. It's just a grin lift and little has been done for his or her long-term health." "My break through bite correction method is a drug free, non-surgical approach that doesn't require grinding down healthy teeth".   Some patients have said, "it seemed too good to be true, but it is true".
"As the face ages, teeth are worn from constant night grinding. The face looks rounder, the chin looks smaller, and the bite gets deeper.  Anti-aging Face Lift Dentistry® lengthens the face and supports the lips by optimizing bite mechanics with the TMJ along with optimizing the length, width and angles of teeth."
If you are experiencing premature aging, a shrinking jaw line, thin lips, and short round faces call for a consultation.  This method has successfully treated patients with overbites and under bites from 14 to 93 years young.  If your teeth are worn, flattened or chipped and you suspect teeth grinding, don't ignore it. Call Dr. Muslin's office at (310) 829-6796 to arrange a screening and to learn how Anti-Aging Venlay® Dentistry can eliminate pain and turn your bruxism around.
Non-Surgical Mouth Reconstruction and Facelift Dentistry, Santa Monica, CA