There's no doubt about it. Santa Monica's bite reconstruction dentist, Dr. Sam Muslin, is garnering a lot of attention. His website gets more than 1,000 visitors a day, and tens of thousands of people have watched his YouTube videos about optimized bite correction that improves the shape of the patients face. Patients fly in from London, Paris and Singapore for treatment. More importantly, his patients are so happy with their non-invasive full-mouth restorations that they readily talk about it! They are ready to defend him as the Best Dentist in Santa Monica.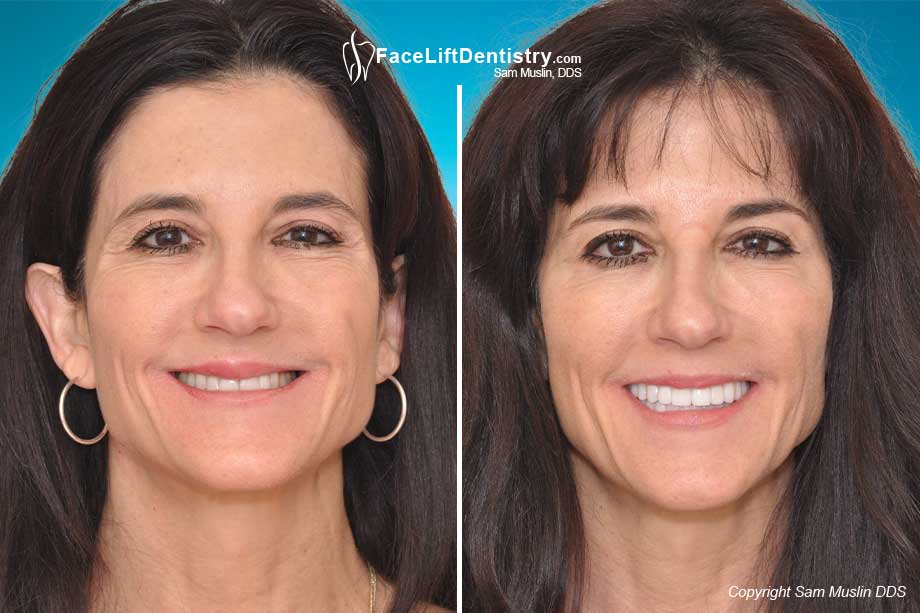 "I did Face Lift Dentistry® some time ago, and the results were incredible," said client Irene S. of Los Angeles. "My face had a better shape, my shrinking chin looked larger, and I looked years younger."
Irene knows a good dentist when she sees one; her brother is a dentist, too!
"After a few years, I visited my brother – who is a dentist – and he examined my mouth. In fact, he has examined my mouth several times over the last few years.  He gave Dr. Muslin's work five stars.  He was impressed at the health of my gums and how beautifully they fit to the porcelain.  He was impressed with the bite and how precisely everything fit together, and he was especially impressed with my jaw, head and neck comfort because I look years younger than my real age."
"I can say that his Face Lift Dentistry® treatment helped me look younger and my jaw is also comfortable for the first time in a very long time," said this satisfied patient.  "He explained to me that, 'getting my jaw in the right position improves my health by reducing the physical tension and stress, and by increasing the size of my airway which is helping me sleep better.'"
By reducing stress in the jaw and neck, Dr. Muslin, (Master of the Academy of General Dentistry) , actually is optimizing long-term health. His dental method using VENLAY® restorations makes it possible to get treatment without grinding down healthy teeth.  All of the other dentists wanted to grind my good teeth down to stubs for porcelain crowns to fix my bite so I was very impressed with how easy it is when none of healthy teeth needed to be ground down".
When the TMJ hinging and sliding joints is coordinated to the bite:
the Effects of Aging was Reversed
the Physical Stress on the Jaw is Reduced
TMJ pain is reduced
Facial profile improves with a better looking chin
The shape of the face improves
Jaw and neck muscles relax
Sleep is improved with a larger airway
Speech clarity is also improved
A constant bath of stress hormones such as cortisol and epinephrine taxes the endocrine system, as well as the rest of the body. Heart rate, blood pressure, metabolism, sleep quality, digestion, reproduction and the immune system are just a few of the things that react negatively to constant stress.
By correcting bite mechanics and maximizing oral health with Dr. Muslin's trademarked Face Lift Dentistry® method, pain disappears and the body starts to heal. The anterior insula and the anterior cingulate cortex – parts of the brain that register pain – get to rest. So, do the brain centers that regulate hormone release. Fewer free radicals are created, lowering cell damage in the body. Health makes a gradual comeback, and this registers on the face, in the mirror and throughout the body.
Dr. Muslin believes that when the mechanical stress is reduced, the body can begin a natural healing process without surgery, braces or grinding down good teeth. 
"Some patients want the treatment because they look younger, while others want the treatment because it is both good for their health and also because they look younger due to the bite being corrected," explains Dr. Muslin. "Most people have a bite that compromises them physically, but because they have never experienced anything else, they live with it.  I have treated my patients with braces for nearly 20 years, have treated my patients with bite reconstructions for over 35 years, and have a unique prospective in the profession with extensive experience in all areas.  With this experience, I can help patients make good decisions."  If I think that surgery or braces is a better option, I will tell the patient because I have experience in all areas of dentistry".
The 2015 LA's Best Dentist has been awarded to Santa Monica's Dr. Sam Muslin. As a leading general and cosmetic dentist, Dr. Muslin has proved that his dental practice is appreciated, customer focused and innovative.
To set up a consultation with Dr. Sam Muslin, call his treatment coordinators at (310) 829-6796, or go to the contact page on his website and fill out the information request form.  Visiting this dentist can transform the health and appearance of the patient and helps them be all that they can be says Dr. Muslin.
Non-Surgical Mouth Reconstruction and Facelift Dentistry, Santa Monica, CA