Is anti-aging dentistry real? Will I really look younger? These are the questions we all want answered as we are hearing more and more about how dentistry can help us look younger. While there are many different dentists and procedures out there that claim to have anti-aging benefits, few if any help the patient reach their genetic potential. The photo below is, "state of the art treatment" that is a real age reversing dental procedure that will restore a more youthful appearance to your face and also to your profile. More importantly, it will maximize your health by optimizing the position of the lower jaw for the first time you the life of the patient. By improving the fullness of your lips, supporting your skin for less wrinkles and sagging, and by creating a younger facial shape and profile, you don't even have to smile to realize the benefits. So the answer to both questions is yes, you really can look younger with the Face Lift Dentistry® procedure and the anti-aging results are real.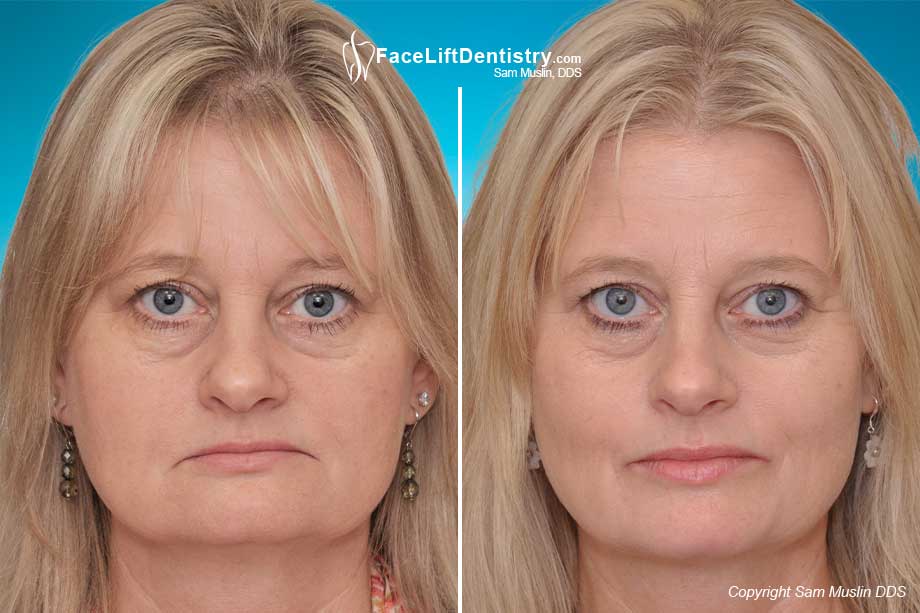 Maximizing Your Health Potential
Optimizing your lower jaw position is treatment that improves the health of your bite and facial profile at the same time. What most people do not realize is that their bite and jaw position directly impacts their appearance by controlling the shape of their face, the proportions of their profile, and the support for their skin and lips. Whether you started out in life with a perfect bite and jaw position or you did not, each and every one of us will still experience bite erosion over our lifetime. This tooth and bite wearing process is very slow and you may not even realize that it is happening but it is. Eventually bite erosion shows up on our faces as aging or even premature aging in younger people. If you feel like you have a weak jawline or weak chin, thinning or small lips, sagging or hollow cheeks, or even a double chin, these could be the side effects of an eroding bite or less than perfect bite and jaw position. Your jaw position is easily corrected and there is little risk to treatment. You healthy teeth stay intact and the stress level to your head and neck is reduced to improve your health. Yes, you will look younger. Yes this type of treatment goes beyond anti-aging dentistry in most dental offices because it maximizes your genetic potential.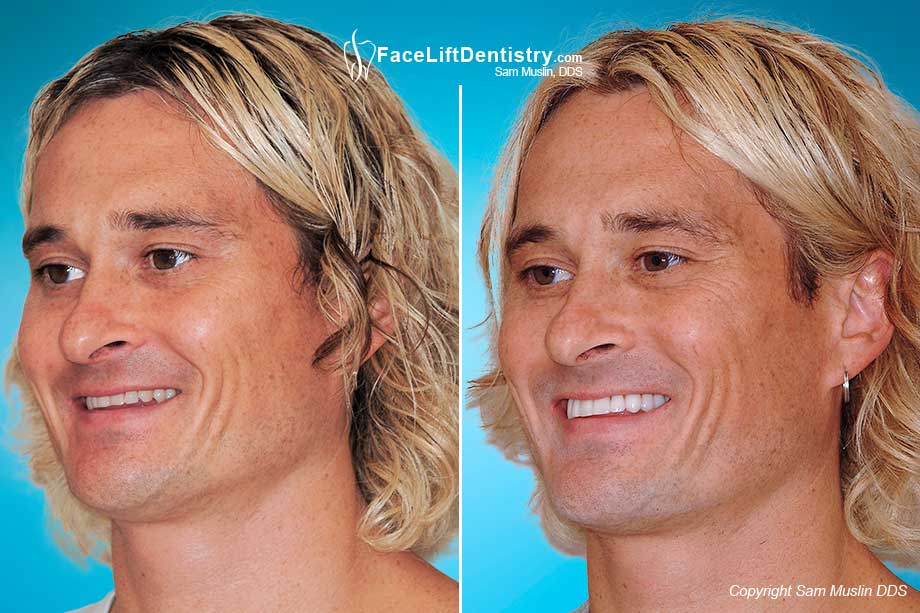 The Face Lift Dentistry ® treatment takes a life changing approach to maximizing your anti-aging benefits by giving you a youthful bite and jaw position. This means that your entire face will have a younger overall shape and that your skin and lips will be supported by your bite. Everything from sagging skin, wrinkles around the mouth area, thin or wrinkled lips, and even hollow cheeks can be significantly improved. At the same time, your new bite position is designed around the anatomy of your TMJ to create a better jaw position. This means that a weak jaw can be strengthened for a more attractive profile and sagging skin in the area of your jawline can be reduced. Creating a better bite and jaw position can even soften a large lower jaw or protruding chin. Whichever your concern may be, looking your best is simply impossible without the ideal bite and jaw position for you.
Anti-Aging Dentistry could mean Anything
With so much discussion around the topic of anti-aging dentistry it is important for us to understand the difference between cosmetic dentistry and anti-aging dentistry. For all intensive purposes cosmetic dentistry is just smile dentistry. By replacing missing teeth, changing the color or shape of your teeth, and straightening crooked teeth with veneers, cosmetic dentistry can boost your confidence. You may even look younger when you smile but your face will remain pretty much the same. Most cosmetic dentistry involves grinding down healthy tooth structure, which is actually harmful to your health. In contrast, when we talk about anti-aging dentistry, we are looking for true anti-aging results that make our faces and profiles look younger without even having to smile. In most offices, anti-aging dentists are really cosmetic dentists and they treat the smile not the health of the body and the shape of the face.
Anti-aging dentistry treatments like Face Lift Dentistry ® take a totally different approach than cosmetic dentistry by creating a youthful bite and jaw position and this is the key to looking younger. Maybe you need fuller lips, more support for your sagging skin around your jawline, or a better facial shape, then what you need is to have an ideal bite and jaw position created for you. With this life changing anti-aging dentistry we can have a younger facial shape, fuller lips, more support for our skin and cheeks, a more refined jawline, totally non-invasively. Maybe you get headaches, your jaw aches or you have clicking and popping jaws along with neck, shoulder and lower back pain. There is a high possibility that dentistry can be a solution for you.
Face-Lifts Can't Do This
When we talk about capturing a younger facial shape non-invasively we are talking about achieving something that not even plastic surgery can achieve. Maybe you have noticed that your face is getting shorter, rounder, or wider over the years. Too often people assume that they gained a little weight or that this is just part of aging but that is not necessarily true. The process of bite erosion, which again happens to all of us without exception, causes these changes in your face. The only way to reverse these signs of aging is to have your bite and jaw position returned back to a youthful place. The Face Lift Dentistry ® treatment can not only recapture a more youthful facial shape, but it strives to create an ideal a bite and jaw position that surpasses what you had before.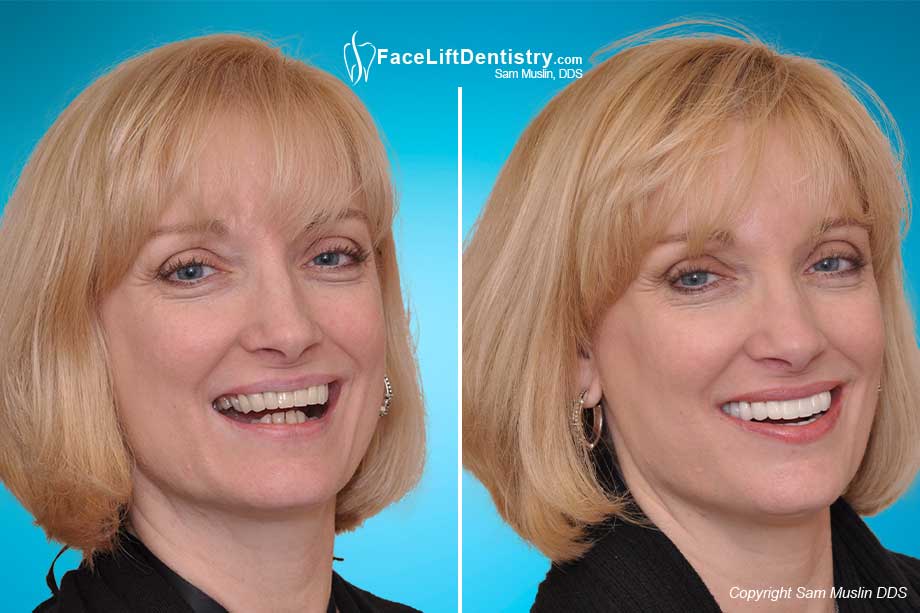 The Face Lift Dentistry ® Treatment is the Gold Standard for Anti-Aging Dentistry
While it is beyond our control, all of us are getting older each year and this means that our bite and jaw positions are eroding. What most of do not realize is that bite erosion has unfavorable cosmetic consequences for our faces but it also impacts our health. An aging bite or bite erosion also means less room for your tongue and restricted access to our airway. When we cannot breath easily, especially during the night, snoring, insomnia, and lower oxygen levels result. Poor sleep can turn into fatigue, grouchiness, anxiety, and trouble getting things done during the day. Dentistry that creates an ideal bite and jaw position that restores and enhances the space for your tongue so that you can access your airway more easily is maximizing your health potential. Watch the video below as one patient tells you about her struggle with insomnia and solving the problem with the Face Lift Dentistry ®treatment.
Improving Digestion with Chewing Power
There is nothing better than a treatment that takes years off of our faces while also helping us breathe and sleep better. You have probably never stopped to think about your chewing ability but in reality it is one of the most important aspects of your health. Your chewing strength and efficiency is the first step in your digestive system and it impacts several key factors such as vitamin and mineral absorption as well as GI health. Those of us who have an aging bite do not realized that our ability to process food thoroughly and comfortably is seriously compromised. We may be swallowing food prematurely, which puts stress on our digestive system and keeps us from absorbing the vitamins and minerals that we need to stay healthy.
Health Benefits of Idealizing the Jaw Position
Unfortunately this is one of the most difficult health concerns to explain because most people are quick to blow it off and declare that they chew just fine. Our bodies have a remarkable propensity for survival and with a bad bite they will try to compensate by building jaw and facial muscles or by chewing differently. The trouble is that this type of response to an aging bite cannot go on forever. Eventually our bodies cannot compensate for our aging bites and our nutrition and health pays the price. The good news is that the benefits of chewing efficiently and comfortably is quite obvious and almost immediate after the Face Lift Dentistry ® treatment.
Save the Healthy Tooth Structure
While both the health and cosmetic benefits are remarkable, truly the best part about the Face Lift Dentistry ® treatment is that it is non-invasive. This means no braces, no surgery, no grinding down your teeth, no healing time, and no pain because the entire treatment is executed by idealizing the jaw position. The premier way of creating the most ideal bite and jaw position without damaging, drilling, or grinding your healthy natural teeth is available today. Over the years you have already done enough damage to your teeth on your own by chewing, clenching, and grinding. It does not make sense to have a dentist grind them down even more only to turn right around and put something back like they do with crowns or porcelain veneers. Instead, you can avoid the dentists drill, skip the pain, minimize the risks, and have your teeth preserved with Venlay  ® bite correcting restorations that maximize your facial cosmetic potential.
Maximizing Your Cosmetic Potential
If you already have several crowns or bridges this does not mean that the rest of your teeth are not good. Too often patients assume, or are told, that they already have several crowns in their mouth so they may as well crown the rest of their teeth. This is simply not the case. The Face Lift Dentistry ® treatment takes the approach that preserving each and every tooth is important. It does not matter that you already have several crowns or bridges, the rest of your good teeth can be saved. The goal is to be maximized cosmetically, biologically and physically with the best possible facial proportions and profile.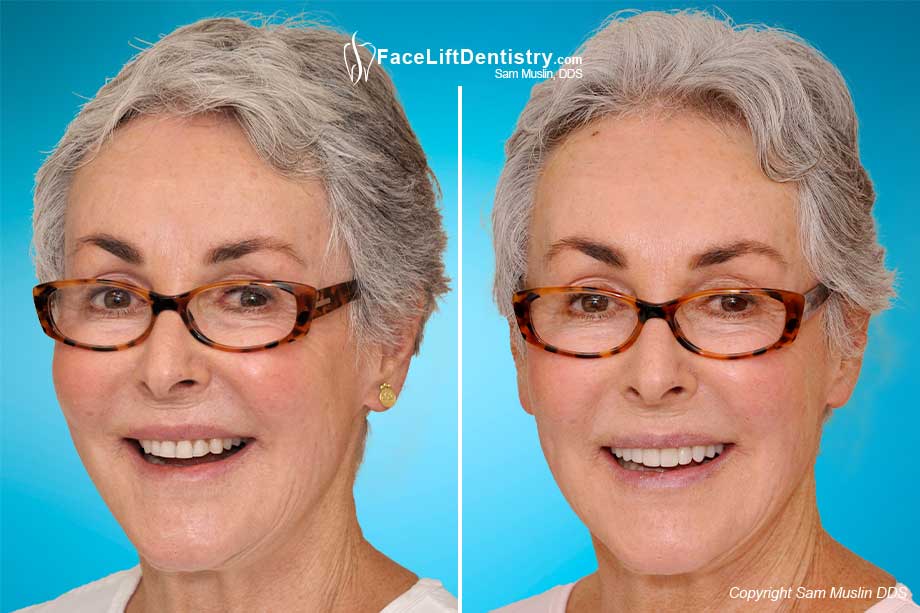 Anti-Aging Optimization
If you are lucky enough to not have much in the way of existing dental work and you are looking for the ideal bite and jaw position grinding down your teeth is not a good idea. Even if your teeth have signs of wear from chewing and grinding, a yellow or grey tone from thinning enamel, or chipped and broken edges, grinding them down because your cosmetic dentist does not know a better way is not a good idea. These effects do not mean that your teeth are unhealthy but they do mean that your teeth are somewhat compromised. The enamel layer is the outermost layer which serves as protection for your tooth. If your enamel is thinning, worn down, or chipped your tooth may still be totally healthy but it has lost its protective coating. A Venlay ® bite correcting facial optimization restoration can serve as a replacement for your lost enamel by becoming a new protective layer for each tooth. At the same time each tooth will work together to create the bite and jaw position that is best for you. This is what age reversing dentistry is all about.
Reversing Years of Aging
Having a beautiful smile, living healthier, and all of the anti-aging benefits that come along with the Face Lift Dentistry ® treatment are achieved non-invasively in as little as one week. Only by bringing together the science of neuromuscular dentistry with a low risk reality of a non-invasive approach can so much be achieved predictably and quickly. There is no question that looking years younger without having to compromise the health of your teeth is remarkable. If you are ready to learn more about what can be done for you it is time to schedule your exam by calling or clicking the Contact button.
The best thing you can do is call for an appointment, The second best is to call to discuss your options with our treatment coordinators and then send us photos to help us help you. (310) 829 6796.
Non-Surgical Mouth Reconstruction and Facelift Dentistry, Santa Monica, CA