The office of Dr. Sam Muslin, the "Father of Facelift Dentistry," makes educating the public a priority. "Informed patients are better patients," says Dr. Muslin, , who advocates a total health long-term approach in his anti-aging Face Lift Dentistry® practice.  His goal is to optimize the biologic potential of each of his patients.
"Taking care of the teeth, gums, jaw joint and airway affects the whole body," says Dr. Muslin, who has been in practice for more than 35 years in Santa Monica, Calif. "Taking care of the body is important to oral health, too. If bone density is low, it sets up a whole domino effect within the body – even in the mouth."  "But, every patient has the potential of improving the shape of their faces, their facial profiles and bite correction can change the way we think of dentistry."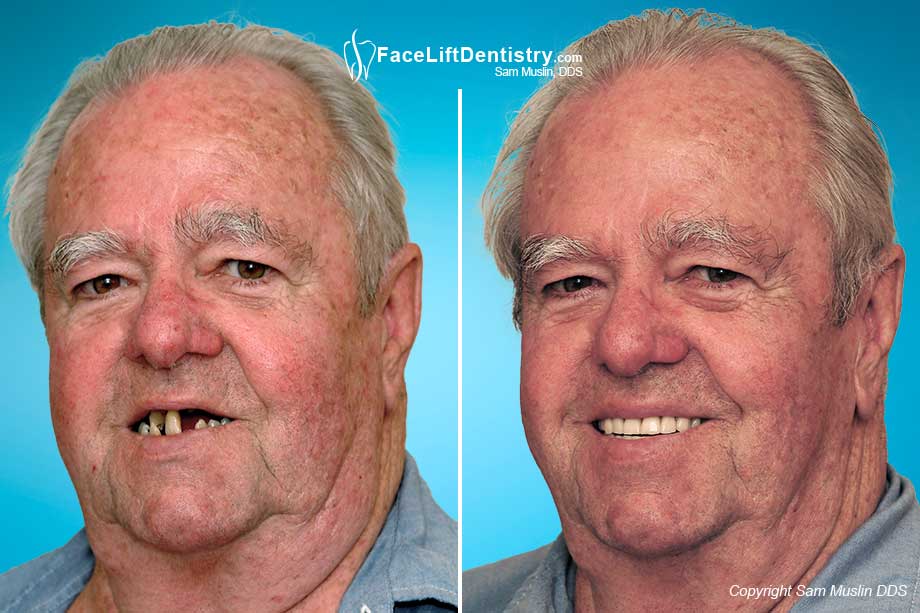 Osteoporosis and Your Jaw
More than 40 million people in the United States have osteoporosis or osteopenia, according to the National Institutes of Health (NIH). Low bone mass is linked to poor diet, minimal weight-bearing exercise, disease, and family genetics. Osteoporosis can affect bones in the hip, spine and wrists, but many don't realize bone loss can occur in the jaw as well. Compromised bone density in the jaw can impact oral health dramatically.
Women suffering from osteoporosis "are three times more likely to experience tooth loss than those who do not have the disease," reports the NIH. Throw in some gum disease, and real health problems escalate.
Tooth Movement with Age
Tooth movement or migration increases with age, says Dr. Muslin. As alveolar bone mineral density diminishes, teeth lose their anchor and shift. Some fall out. Dental crowns and teeth without crowns move and dentures don't fit as well. Teeth wear unevenly and bite mechanics are affected. Facial support is lost, wrinkles appear and a person starts to see a rapidly aging face in the mirror and a shrinking jawline.
About one in three adults older than 65 has tooth loss, explains Dr. Muslin. If osteoporosis and periodontitis, a chronic infection of the gums, are not treated in a timely manner, surrounding bones and connective tissue will be affected. Without proper oral care, bacteria may cause decay, abscesses and tooth loss. Missing teeth shift the action of the temporomandibular joint (TMJ), which can lead to headaches, neck tension and pain. If that were not scary enough, bacteria from gum disease have been linked to stroke, diabetes, heart disease, premature births and cancer of the lungs, head, blood, kidneys and pancreas.
Dealing with Dental Bone Loss through Face Lift Dentistry®
Because of these serious health ramifications, patients undergoing Face Lift Dentistry® will be assessed for cavities, infection, gum disease and especially the bite. All of these health risks must be fully diagnosed before clients receive their customized VENLAY® restorations that improve the jawline, shape of the face and reverse the effects of the aging process.  Reducing mental stress increases self-esteem which goes a long way to improving the health of the patient.
Patients with osteoporosis should be counseled on exercise and dietary strategies, particularly on the significance of weight training and getting enough Vitamin D and calcium, says Dr. Muslin. Medications are available to help slow or halt ongoing bone loss, too. Registered dieticians and certified fitness instructors also are valuable members to have on one's health team when learning to comply with new lifestyle guidelines.
The Miracle of Face Lift Dentistry®
Once underlying health issues are resolved, the next – perhaps more exciting – phase of Face Lift Dentistry® is unleashed. Using three-dimensional tomography, Dr. Muslin devises a plan to replace missing teeth and to optimize the width, depth and length of remaining the remaining teeth and especially the position of the lower jaw and the bite . The miracle of this treatment is that all of the healthy teeth are left intact – with NO tooth GRINDING. He works diligently to ensure proper TMJ position to reduce jaw, neck and ear pain and facilitate clear speech and good chewing mechanics.  Good mechanics reduce the stress and tension to the whole body and because no teeth are ground down, the treatment is much easier on the patient.
Cheeks that were once hollow will be filled and lifted through Dr. Muslin's anti-aging Face Lift Dentistry® approach. The facial profile will be shifted, making shallow chins appear more prominent, reducing grooves and wrinkles in the skin, and giving the illusion of fuller lips without soft tissue filler injections. Molars and the front teeth will align properly to make chewing food easier, too.
If you have lost teeth and are unhappy with your bite and smile, consider consulting with Dr. Sam Muslin about a comprehensive health and dental makeover. Call his office at (310) 829-6796 to speak to a treatment coordinator, or go to Dr. Muslin's contact page and fill out the information request form.
Dr. Muslin's Santa Monica office is easily accessible from Los Angeles and Beverly Hills. He also has numerous clients from out of state and overseas, who gladly fly thousands of miles to experience the "New Age of Dentistry" from the man who began it all.
Non-Surgical Mouth Reconstruction and Facelift Dentistry, Santa Monica, CA