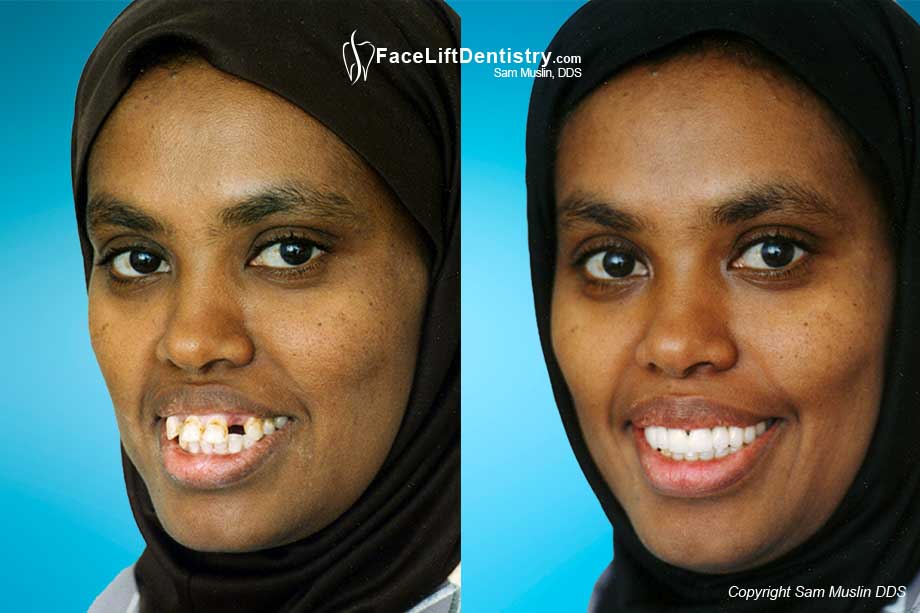 Missing Teeth
Faisa had missing upper and lower teeth. Her existing teeth were also jutting so far out that her lip was pushed forward. Plus, she had spaces between her teeth and misshapen teeth.  She also experienced severe bone loss.
Finally, Faisa needed periodontal treatment and all of her issues had given her a collapsed bite.
Replacement Teeth Fix Problems
Faisa went to Dr. Sam Muslin, DDS, M.A.G.D., a noted cosmetic dentist. The doctor came up with a coordinated treatment sequence to fix her dental woes.  It included a porcelain bridge, periodontal treatment and dental implants.
He set a porcelain dental bridge on her upper teeth replacing Faisa's missing incisors. The bridge was cemented to the teeth. This allows it to stay permanently in place.
He then inserted dental implants to replace her missing bicuspids. Additional cosmetic treatment combined with an overall comprehensive dental health care plan, including  periodontal improvements, completed the dental work.
By the way, all of this was completed in just a few visits but as you can see, the results will last a lifetime.
Faisa Receives a Compliment
The results of Faisa's dental work were striking. Her upper lip slid down to its natural place. Her bite became aligned and more stable allowing her to chew normally without any discomfort. Her mouth looked in the proper proportion to her face. The bridge and the implants provided Faisa with a fuller appearance. You can see it in her cheeks in the before and after pictures.
Her mouth didn't have that jutting forward appearance and her smile looks fantastic.
Faisa stated that when her mother gave her a compliment about the dramatic shift in Faisa's teeth, she knew the Dr. Muslin's work had produced the results she was seeking.
Dr. Sam Muslin
For more than 30 years, Dr. Muslin has been practicing cosmetic dentistry in the Los Angeles area. In fact, he knows his craft so well, he has perfected a technique called Face Life Dentistry®.
If you look at the photos of Faisa and the Dr. Muslin's other patients, you can see how they depict the dramatic changes that occurred as a result of Dr. Muslin's treatment. That is one of the features of his practice that Dr. Muslin is most appreciative of. He takes care that the photos are taken properly. He uses the same light. He uses same poses in each picture. Then, they are posted on the website untouched and unaltered.
Non-Surgical Mouth Reconstruction and Facelift Dentistry, Santa Monica, CA