Question:
Dr. Muslin, my family dentist convinced me that porcelain veneers were the best solution to cover my dark teeth. At first, it looked OK but now my porcelain veneers look grey and dull. Do I need to have them whitened or bleached? How can this be fixed?
Answer:
Porcelain Veneers can be made with different thickness. The thickness of the porcelain veneer is the critical component in hiding the color of your teeth. The ability of the porcelain veneer to hide dark tooth color is related to the thickness of the porcelain and the bonding technique of the dentist. Sometimes the material or the technique used by the dentist causes the color to turn grey. Sometimes the dentist did not have the lab add enough opacity to hide the color. Other times the dentist did not help the lab understand how much of a color change he or she hopes to achieve. The bonding skill and the cosmetic dentistry skill of the dentist are very important in determining how color stable your porcelain veneers will be. There is a huge difference in the skills of cosmetic dentists. I realize that patients think dentists are all licensed and trained the same but the training and the ability of the cosmetic dentist vary wildly.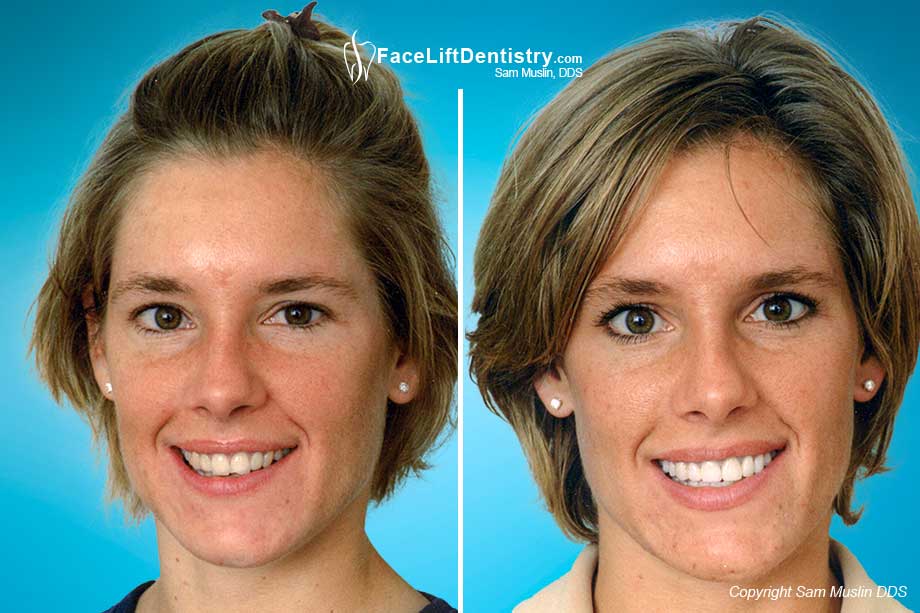 Sometimes if the color of the veneers turns grey you can bleach the teeth but this is not permanent. You will have to continue bleaching your teeth for the rest of your life and that may not be a good idea. You also mentioned the porcelain veneers were dull. The material used may not be real porcelain but some hybrid form of porcelain that is cheaper to make and easier for the dentist to bond. There is a large difference in the types of porcelain used for the porcelain veneers. The types of porcelains utilized, the cosmetic skills of the dentist, the technical bonding skills of the dentist and the diagnostic skills are critical to achieving results that look natural and last for many years.
Caution! The dentist you choose makes all of the difference between good and bad porcelain veneers. Ask to see one of the dentist's patients, ask to talk to one of their patients but the best way is to see a lot of photographs with clear before and after images of the patients including full face views and close up views. Don't fall for website gimmicks. Don't fall for miss matched photos that do not allow you to compare results. Don't fall for a slick website with bad before and after photos. Choose carefully because you will be wearing the porcelain veneers for a very long time.
Non-Surgical Mouth Reconstruction and Facelift Dentistry, Santa Monica, CA