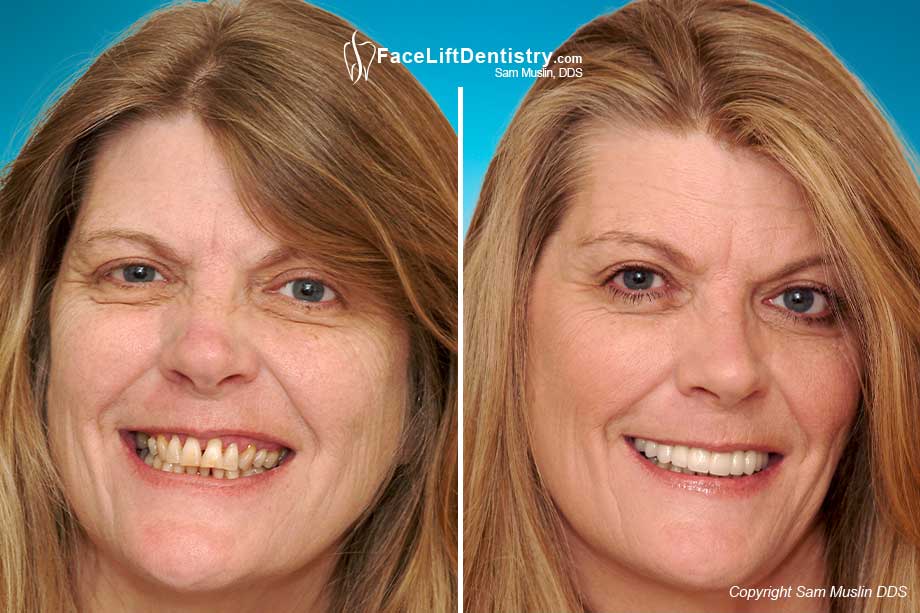 Dental Health Issues
This patient has some serious dental issues and she knew it. She had lost jawbone due to an infection. The infection also caused the teeth she had to erode.   From years of clenching and grinding, she had worn down her teeth. Finally, her bite was out of alignment causing her discomfort.
Los Angeles Cosmetic Dentist
Eve lived in the Midwest. Through research, she found the perfect cosmetic dentist in Santa Monica, CA. Dr. Sam Muslin, DDS, MAGD, is a renowned cosmetic dentist. One of his many accomplishments in the field includes Face Lift Dentistry®;  the ultimate in dental health and cosmetic dental work.
Dr. Muslin's Dental Treatment
It took just two visits to transform Eve's dental health. In one of the visits, the treatment was as follows:
14 porcelains were prepared for use
Bone loss was treated non-surgically
Gum disease was treated non-surgically
A customized new bite was built
The best cosmetic result was created
Temporary crowns were placed in her mouth
In the second visit, the permanent crowns were affixed.
To aid Dr. Muslin in his work, he possesses only the best equipment and technology available to dentists today. For example, to precisely align Eve's jaw, he used a jaw joint simulator. These were calibrated to Eve's individual jaw and bite characteristics.
Computer-generated imagery plus Dr. Muslin's artist's eye completed the specialized treatment. The result provided the best possible cosmetic and dental health benefit for Eve.
The Impact of The Dental Face Lift Treatment

Dr. Muslin had suggested to Eve to hold off on telling any of her friends and family about the dental work. He thought it would be interesting to see their reaction.
As for herself, Eve felt the final results went beyond her expectations. She said that getting rid of the infection and improving her bite made her feel better physically. She felt that because she smiled more and no longer shielded her teeth that her friends treated her better.
Probably the biggest difference was that Eve felt more attractive. She felt the benefits of her improved health. Plus, she knew it would last for the remainder of her life.
All of that meant that Eve had her self-confidence restored because of the procedure. It did take two flights from the Midwest to Southern California but Eve felt that it was "worth traveling to get my work done right!"
Non-Surgical Mouth Reconstruction and Facelift Dentistry, Santa Monica, CA