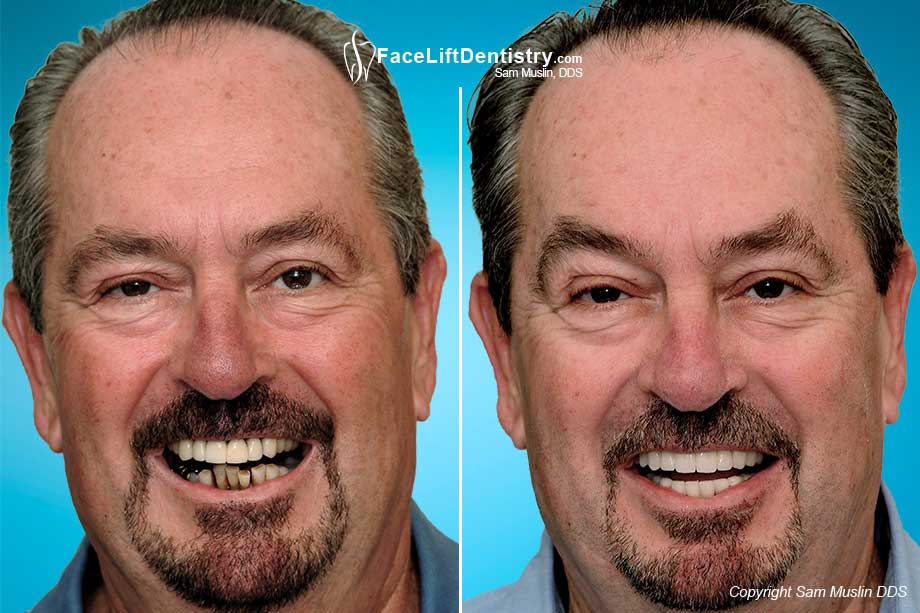 Dental Hygiene
This patient had tried to address his dental problems over the years. However, the combination of inadequate dental work and the fact that he might have been better off addressing his teeth a little sooner, resulted in some serious dental concerns.
As seen in the before treatment photo, he had discolored and crooked teeth. His face looked squatter because of the wearing down of his teeth. It appeared that the bottom teeth were changing position and causing him to have an overbite.
The gradual deterioration resulted in his bite shifting until the only solution was a complete bite reconstruction.
Dental Health Treatment
Dr. Sam Muslin, DDS and MAGD, was this patient's dentist of choice. Dr. Muslin has extensive experience treating patients in the Los Angeles area and from all of the world, for that matter, for complex dental issues.
As a cosmetic dentist practicing for more than 30 years, Dr. Muslin has taken the art to new heights. He developed, refined and trademarked the Dental Face Lift®as a viable, dynamic and often life changing process for his patients with severe dental health issues.
In this case, Dr. Muslin extracted the teeth that were beyond saving. After that, he and Dr. Muslin decided to commit to a complete bite reconstruction. This meant that Dr. Muslin would realign his jaw with his teeth so they could operate in the harmony nature intended for them. This process is as much an art as it is a science. The good part about it is that it is non-invasive and provides many wonderful benefits for his patients.
When done in this manner, the process is called the Dental Face Lift®. The procedure brought his face back in balance. It improved the TMJ (jaw joint) immensely. In fact, it cleared up his speech to where it sounded less garbled.
Dental implants were not necessary. Instead, Dr. Muslin created fixed porcelain dental bridges to replace his missing teeth. Other patients Dr. Muslin has treated this way have maintained these bridges for over 25 years!
His mouth looks great. His smile is even and his face is in alignment, with all of the features in their proper proportion.
Before and After Pictures
The strongest testimony to Dr. Muslin's cutting-edge work are the before and after pictures his patients allow him to post in his online gallery of case studies. You can see the difference his work and art has made in the lives of his patients.
Non-Surgical Mouth Reconstruction and Facelift Dentistry, Santa Monica, CA