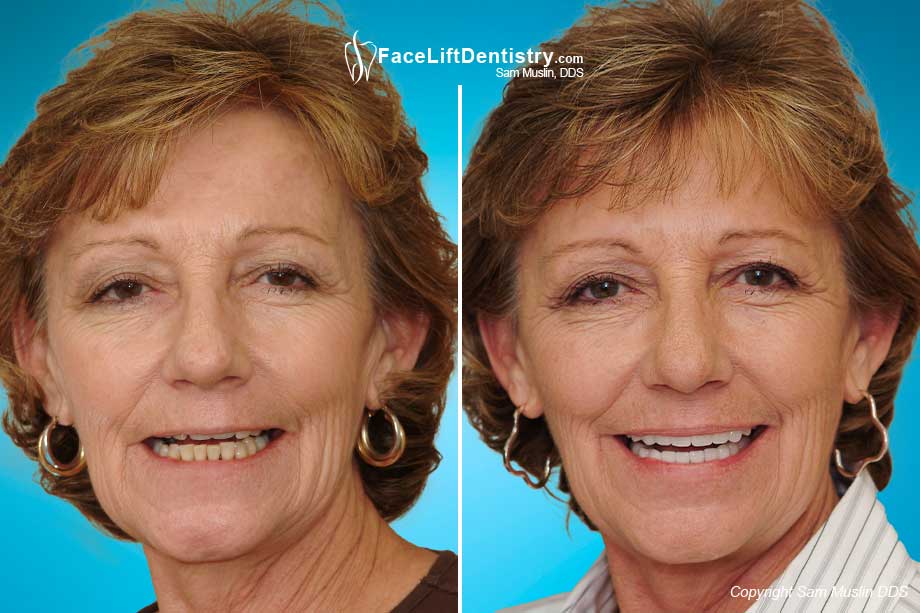 Dental Health First, Cosmetics Later!
You know that cosmetic dentistry can usually improve your smile, your face even your overall looks. However, if you have dental health problems, having cosmetic dentistry done is like repainting a car to cover up the rust spots. You know the rust is still eating away at the metal beneath the paint and will eventually break through the shiny cover-up!
In Sherlene's case, you couldn't see her upper teeth when she smiled. She also had missing, crooked and discolored teeth. Her bite had radically shifted out of position as a result of years of wear on her teeth.
The Best Cosmetic Dentist
Sherlene viewed a TV segment featuring Dr. Sam Muslin, DDS, MAGD. In the segment the Dental Face Lift® was featured. Sherlene thought that Dr. Muslin might just be the one to fix her teeth which had been making her feel self-conscious for years.
Dr. Muslin suggested the best cosmetic dentistry would not achieve the results Sherlene was seeking. She needed to improve her comfort and health. She also wanted a treatment that would be permanent.
Face Lift Dentistry®
Sherlene needed a complete bite reconstruction. Her treatment included replacing her missing teeth with dental implants, fixed porcelain bridges and porcelain crowns. She underwent non-surgical treatment and periodontal surgery to repair her gums.
The doctor lengthened Sherlene's upper teeth. He shortened her lower teeth. Sherlene's bite was aligned with her new teeth. Raised to physically lengthen her face, the procedure also resulted in more support for her lips.
The results were spectacular!
Sherlene's face has been rejuvenated. Her smile is wide and "toothy". Her lush smile and white teeth highlight the balanced dynamics of her face. She is less jowly. And with her lengthened face, Sherlene appears in perfect proportion with all of her facial characteristics.
With all of her dental problems resolved, the cosmetic benefits will last Sherlene forever.
Dr. Sam Muslin
As a thirty year practitioner and specialist in general and cosmetic dentistry, Dr. Muslin's Face Lift Dentistry® has elevated the art form.
His base is in the Los Angeles area but he has been fortunate enough to assist dental patients who have come to him from other areas of the globe.
His results are posted on his website in dramatic, unaltered before and after treatment photographs. You cannot help but be impressed by the results of Dr. Muslins passion for his work.
Non-Surgical Mouth Reconstruction and Facelift Dentistry, Santa Monica, CA