Every generation is living longer and tooth structure deteriorates with age. So the older people grow, the more tooth structure they loose. When tooth structure is lost people are aging prematurely because the level of bite collapse. (More about bite collapse.) A collapsed bite is the result of lost or worn teeth and affects the position of your jaw, which could result in changes of facial features and TMJ-related jaw and neck pain. In dental terms, bite collapse refers to the loss of vertical dimension of occlusion. Posterior bite collapse happens when the back teeth are either lost, pushed out of place, or badly worn.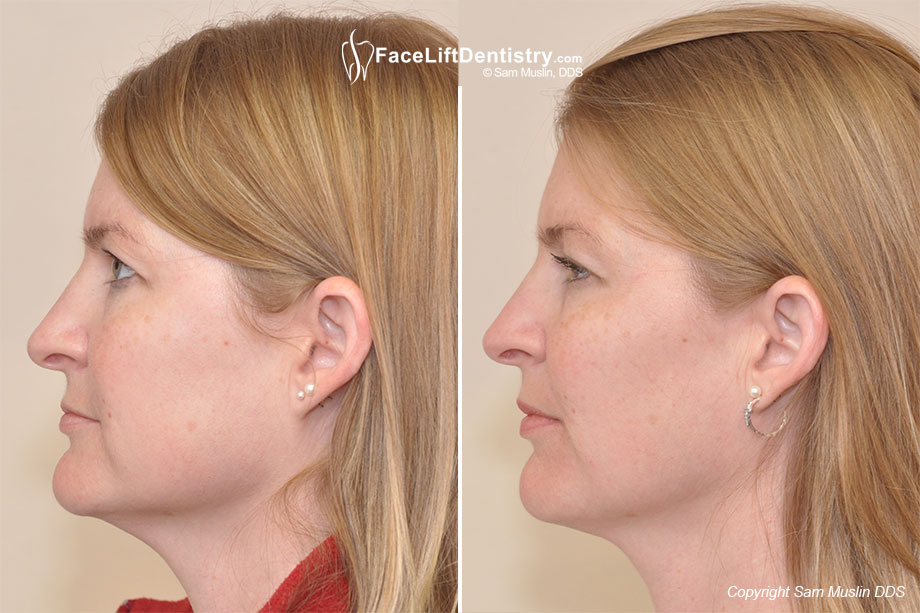 However, many people never had the best vertical dimension of occlusion for their facial structure or for normal TMJ function. They actually experience bite collapse around 12 years of age because the vertical dimension is not ideal. As they get older the teeth wear down, the vertical dimension decreases and the bite gets worse. Patients with overbites usually have a collapsed vertical dimension, small chins and TMJ problems.
Other patients have under bites that also experience problems of bite collapse because the front teeth don't touch. The back teeth experience excessive wear causing bite collapse and a short lower face. Bite collapse results in the face to develop an older appearance.
Collapsed Bite Treatment
Fortunately, there is a high tech method that can correct overbites, under bites, worn down teeth and premature aging without jaw surgery, without braces, without grinding down healthy teeth, no shots and is virtually painless. Just as a side note, it is fairly expensive to most budgets. However, patients can get the white teeth, ideal bite and wide smile quickly, painlessly and gain permanent facial support. You can learn more about this high-tech, non-invasive, bite collapse treatment here.
Non-Surgical Mouth Reconstruction and Facelift Dentistry, Santa Monica, CA