There are little miracles going on in Santa Monica, Calif., all the time. Just ask the happy patients walking out of the office of Dr. Sam Muslin, LA's Top Cosmetic Dentist for 2015.
A handsomely striking young man walked into the Santa Monica Boulevard office with a severe underbite that was affecting his speech, his profile and his self-confidence. Two weeks later he was a new man, with a handsome profile, "straight teeth and a pearly white smile" – all without invasive under bite jaw surgery or years of aggravating braces and trips to the orthodontist.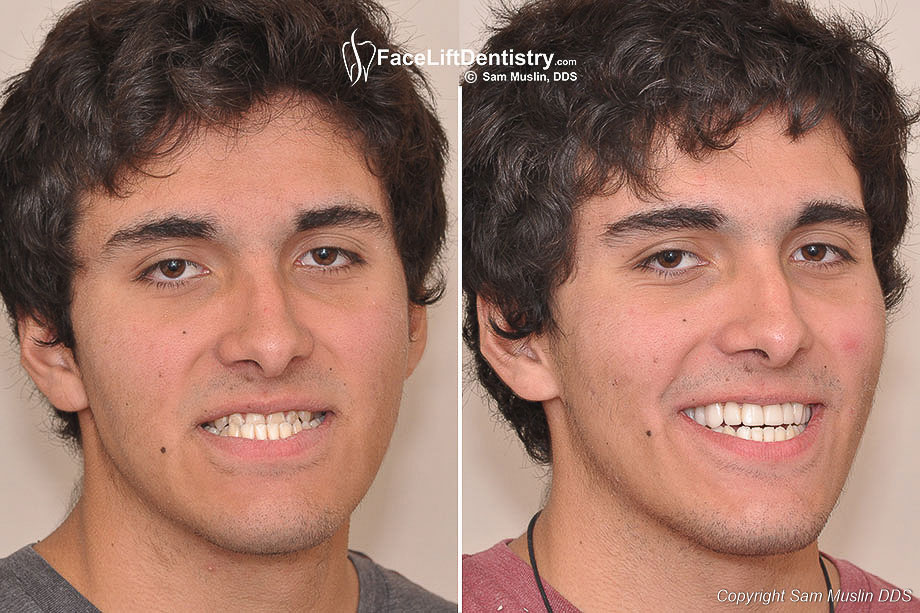 According to a study published in the July 2013 issue of the American Journal of Orthodontics and Dentofacial Orthopedics, "Class III malocclusion (underbite) is characterized by a composite of dentoskeletal patterns that lead to the forward positioning of the mandibular teeth in relation to the maxillary teeth and a concave profile. Environmental and genetic factors are associated with this condition, which affects 1% of the population in the United States and imposes significant aesthetic and functional burdens on affected persons."
'I Can Speak Clearly,' Says Happy Under Bite Patient after Non-Surgical Correction
An underbite produces an unusual profile that can be the source of embarrassment. Speech impediments complicate the condition. Abnormal tongue and teeth positions often affect "alveolar sounds /t, d, n/ and can result in interdental and tongue blade realizations. Labiodentals /f, v/ may be inverted, being produced by the lower teeth contacting the upper lip."
Before treatment by Dr. Muslin, this young man with the under bite realized he was mispronouncing lots of words, and he was self-conscious about his appearance.  He would try to position his lower jaw so he could look a little better in front of other people.
"I noticed when I looked at the mirror, my smile was distinctly different" from other people's, the young man explained. "My mom and I went to see many orthodontists, and they pretty much laid out several options in which I had to wear braces, mouth guards, all sorts of stuff that would be in my mouth for months and months. They wanted to do jaw surgery on my mouth. I would have had to take a couple of months off from school for rehabilitation from that surgery! And that surgery might not have worked out at all," he explained.
He and his mom did research online and liked what they saw. It almost looked too good to be true, but it was worth a shot. They made a consultation appointment with Dr. Muslin, a Master of the Academy of General Dentistry and a doctor of dental surgery with more than 35 years of experience. During the visit, Dr. Muslin explained that his VENLAY® Restorations and the Face Lift Dentistry® Method were not primarily a cosmetic dentistry procedure. Face Lift Dentistry® bite correction treatment was good for patients' health, he said because under bites and overbites are corrected with very little risk. The facial profile would improve when the bite was corrected, allowing the lower jaw to function in the most natural position for his jaw structure, he said.
Three-dimensional jaw position imagery would be used to locate the best possible functioning position of the lower jaw, Dr. Muslin explained. A customized application of VENLAY® restorations would reposition the jaw without having to resort to any grinding of teeth, reducing the lower jaw's larger appearance, increasing the upper jaws smaller appearance and improving the aesthetics of his profile and smile.  Dr. Muslin explained that you cannot correct under bites with cosmetic dentistry and porcelain veneers.  Porcelain veneers are just cosmetic camouflage.
They were sold. Two weeks later he had a completely new smile that he was able to wear in the office to give his approval before bonding took place.  The results exceeded his expectations.
"My new porcelain teeth…really look differently aesthetically, and I can feel a distinct difference with my speech. …I didn't have to do any of this with surgery at all. All of this was done within a matter of a day. I don't have to live with an under bite for the rest of my life. …I don't have to be self-conscious anymore."
"I am very proud of the high standard of dentistry that I provide and the high tech bite correction solution that I have developed," says Dr. Muslin. "I do everything in my power to maximize health and ensure exceptional results, using some of the most innovative methods and technology available."  Dr. Muslin did braces for 20 years and has experience with the jaw surgery, neuromuscular dentistry and advanced anti-aging dentistry so he has a complete understanding of the best choices for the patient.
Invasive jaw surgery and braces aren't the only options for people who have under bites, says Dr. Muslin. "Speech problems, pain and poor self-esteem are not givens. There are options. But it saddens me to see how many dentists send their patients for orthognathic surgery without informing them of a non-invasive underbite surgery alternative, which – in many cases – would produce a better outcome."
To read more about Dr. Sam Muslin's progressive, high-tech dentistry methods and to see his most recent case study before and after photos and before and after treatment videos, visit the Face Lift Dentistry® website at https://www.faceliftdentistry.com. To set up a consultation with Dr. Sam Muslin, call his treatment coordinators at (310) 829-6796, or go to the contact page on his website and fill out the information request form.  This is the new age of high tech dentistry.
Non-Surgical Mouth Reconstruction and Facelift Dentistry, Santa Monica, CA