A dental overbite is a physical and a cosmetic concern. Lots of people have them. Many people have mild overbites that are problematic in their youth, and develop complications as the teeth wear down with age. Others suffer from pronounced skeletal malformation as a very small looking chin and short lower face along with headaches and neck pain from the get-go. Each person is different. Few people realize that this could be closely related to their chronic headaches and possibly TMJ pain.
Overbite Correction
Painful jaw surgery – with an extended recovery period – and braces have always been the party-line solution for more bothersome overbite correction cases. However, now there is a compelling non-surgical alternative: the Face Lift Dentistry® breakthrough method developed by Santa Monica restoration dentist Dr. Sam Muslin, who was named "LA's Best Cosmetic Dentist for 2015."
"It's a quicker, less traumatic and a much less risky solution than surgery or orthodontics," says Dr. Muslin, who offers VENLAY® Dental Restoration as part of his thriving Face Lift Dentistry® practice. "Cosmetic dentists and other medical professionals need to look at more than just the patients' symptoms. I investigate the source of each patient's concern and aim for big health improvements along with the cosmetic tweaks. Dentistry needs to evolve because life expectancy is so much longer."
Headaches and TMJ Pain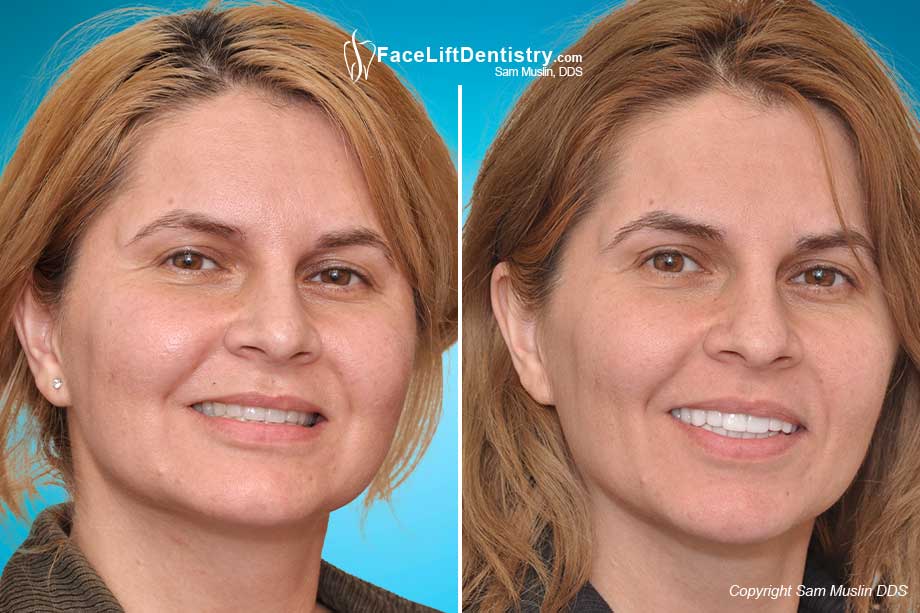 Alexandra, a 40-something patient, flew in to see Dr. Muslin in hopes that her pronounced overbite could be corrected. Her overbite contributed to more than 20 years of TMJ pain that radiated down into her neck and shoulder requiring chiropractors treatment and pain killers. That's two decades, folks!
"I used to wake up every morning with a headache and pain in my neck and shoulder," she says. "It was almost like I was carrying the weight of the world on my shoulder."
After undergoing Face Lift Dentistry® with Dr. Muslin, her pain and headaches disappeared. "Now it's nothing!" she says. "I look like my younger sister, and I don't even have a younger sister!"
Overbite Correction without Surgery or Braces
Using his no-tooth grinding, non-invasive alternative to surgery, braces and with possible tooth extraction, Dr. Muslin assessed and corrected Alexander's bite mechanic problems.  Her overbite had forced her lower jaw back toward her ears, making her normal-sized chin look smaller than it was. He used VENLAY® dental Restorations to lengthen her bite and widen her smile, idealize the surfaces of her back teeth, elongate her face, reset the position of her chin, and optimize the mechanics of her jaw joint with his overbite correction.
This patient's non-surgical and non-invasive dental reconstruction relieved the stress on muscles and nerves and eliminated the tension in her neck. Dr. Muslin also gave her face the underlying support it needed, and minimized the premature aging she was experiencing. Chronic pain was no longer her constant companion, and she looked younger, refreshed and softer around the mouth. She didn't need over-the-counter pain medicines anymore, which had been giving her stomach aches.
"Fixing my bite eliminated completely the need to take that medicine." She was able to cancel her appointments with her chiropractor, too.
"This chronic headache patient got facial profile correction without cosmetic surgery," says Dr. Muslin. "She got her health back and her looks. I focused on the source of her pain first, treating the TMJ and stress that bothered her so much. By prioritizing health improvements – rather than just putting on veneers for her looks and covering up her pain with meds – I got to the heart of her problems. She saw big health changes and got dramatic cosmetic results, too."
To read more about Dr. Sam Muslin's revolutionary dentistry and to see case study photos, visit his Face Lift Dentistry® website or his YouTube channel. For consultation, call (310) 829-6796.
Non-Surgical Mouth Reconstruction and Facelift Dentistry, Santa Monica, CA