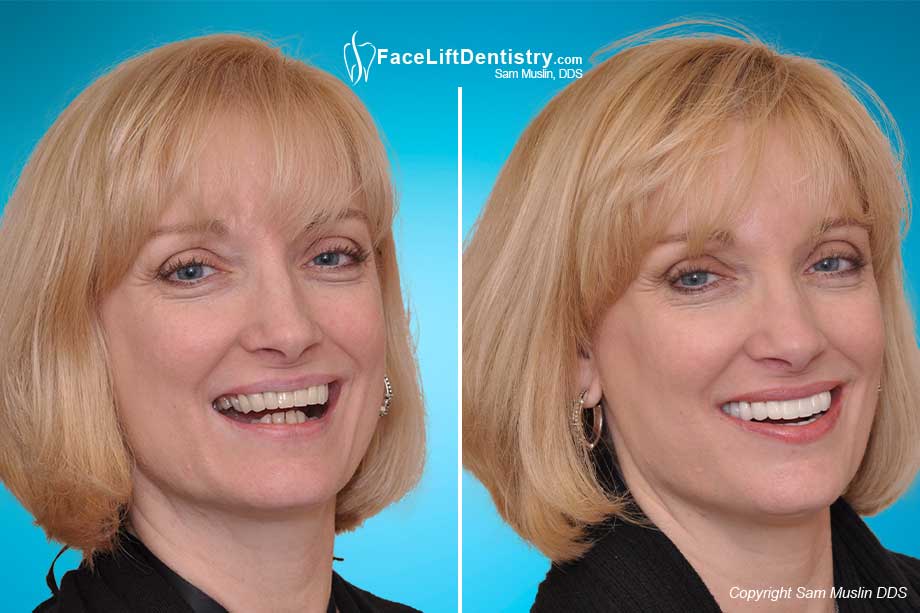 Her teeth and bite were not supporting her face anymore. After Face Lift Dentistry® treatment she now has a healthy bite, full smile, and proper support for her lips and soft tissue.
Many people have significant tooth wear that contributes to bite collapse and they don't even realize what is going on. They may feel like they look older and need a lower face lift or some filler in the lips and mouth area. However the injections and surgical tissue improvements will not correct the root of the problem which is known as bite collapse.
People are not normally conscious of the fact that their teeth are shortening every year through normal wear and chewing. Then, if you are someone who clenches and grinds during the day or at night you are increasing the speed with which your teeth are eroding away. This erosion then reaches a point that we call your condition "bite collapse". The physical symptoms of a collapsed bite can even show up on your face as any one of the following, sagging tissue, wrinkles around the mouth, small lips, round shaped face, and even out of balance profile proportions.
Non-Surgical Mouth Reconstruction and Facelift Dentistry, Santa Monica, CA