Anti-Aging Face Lift Dentistry®
Beyond Veneers and Cosmetic Dentistry - No Drilling, No Surgery 
Santa Monica • Beverly Hills • Los Angeles
Far too many people go through their lives without achieving their maximum facial potential. Most patients do not realize that the shape of their faces is directly determined by their bite and the bite they have was a total random accident. High-tech treatment for a Dental Face Lift ® can achieve the best facial proportions by optimizing the patients natural and unique characteristics.
The fact is, that no other treatment can improve the shape and profile of the patient's face as easily and as dramatically. This most exciting profile improvement and anti-aging treatment available today and it will preserve all of the natural healthy teeth. No healthy teeth need to be ground down in most cases.
Face Lift Dentistry® is probably the best non-invasive treatment that improves the total health of the patient with optimal cosmetic potential. Most patient live their lives with significant facial and functional flaws that could be corrected to achieve the maximum cosmetic and TMJ health for the patient.
Age Reversing Dentistry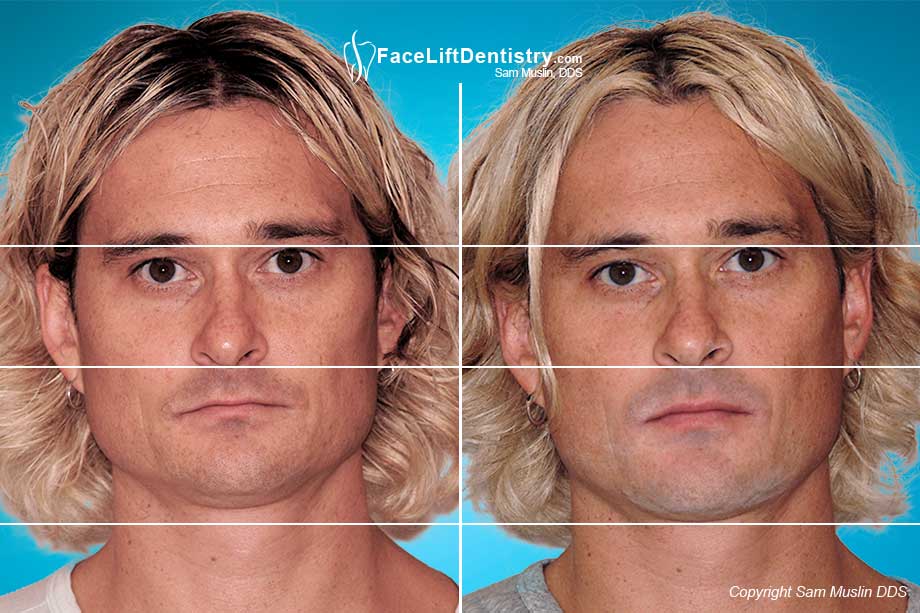 Anti-Aging dentistry lengthened a young mans face while giving him better support for his lips. His jaw position is more masculine and the new bite was created with non-invasive dentistry. All of his natural teeth were preserved while the facial proportions were improved.
The Dental Face Lift® for Adults of all Ages
---
Most people are not blessed with the best facial proportions because their jaw position and bite were never optimized to maximum potential. The teeth erupted over a period of years in a random manner. The patient had to adapt to the teeth and bite that they got for the rest of their lives.
Today, patients can have the best facial balance, best jaw position for their bone structure and the best support for their faces with the exclusive Non-Invasive Face Lift Dentistry® treatment by Dr. Sam Muslin. He has treated patients of all ages that wanted the very best by maximizing every aspect of their individual characteristics to achieve the optimized bite and jaw position without surgery.
In this website, you will see actual patient's treated only by Dr. Sam Muslin with untouched and unaltered before and after photos containing detailed explanations of each patient. His treatment can accomplish overbite correction, underbite correction, better facial proportioning, correct recessive chins without surgery, relive TMJ pain, relive and even eliminate headaches and jaw clicking and popping. For those patients that want to achieve their maximum potential, this may be the very best treatment option.